Email This Post
Podcast: Play in new window

Email This Post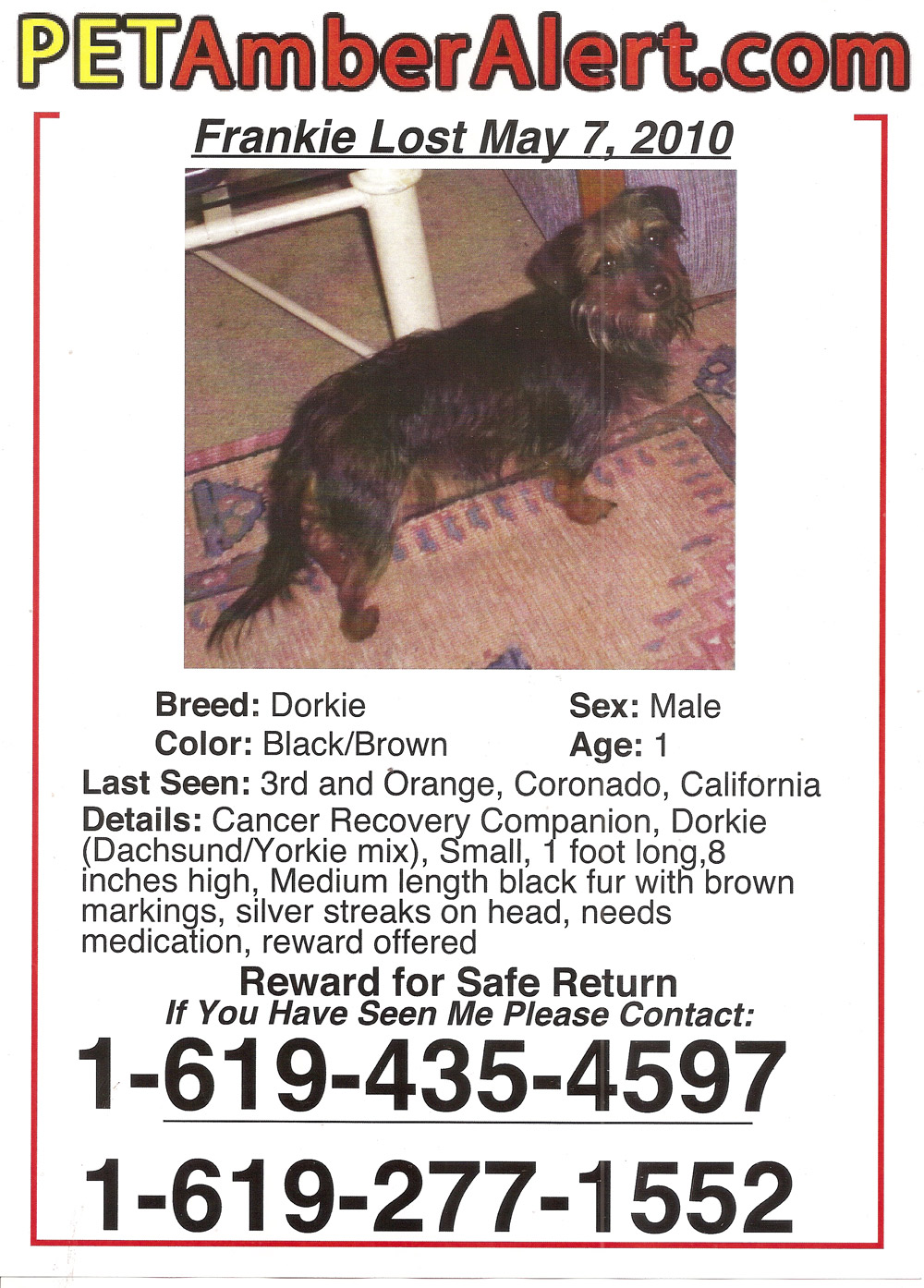 Click image to see larger
Kimberley Graham, your amber alert about Frankie has been processed within a 50 mile radius of the 92118 zipcode. We have attached a copy of the poster for your records and recommend that you print at least 20 copies to post and hand out around your local neighborhood. We also recommend to upload the poster to as many websites as possible, and email it to everyone you know because the more people that know about your missing pet the better. When you are reunited with your pet, make certain to inform all places you contacted and remove flyers posted. Otherwise, valuable time is wasted which could be used for animals who are still lost.
Click here to Download your Poster
Thank you,
Pet Amber Alert
"Helping Pets Find the Way Home"
http://www.PetAmberAlert.com

Email This Post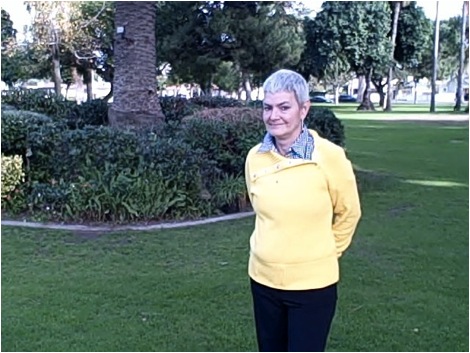 Kimberley Graham grew up on our lovely island of Coronado.  She is 53 years old, married for two decades, and home schooled her two children.  Kimberley was also selected as one of San Diego's 50 Best Moms the same year!
While educating her children, she worked as a waitress at local resorts, Loews Coronado Bay Resort and Coronado Island Marriott Resort/Le Meridien where she cultivated many long standing relationships with the local community as well as world travelers and celebrities.
In February of this year, she was lucky enough to self detect a lump on one of her breasts.  After undergoing two surgeries, she is currently undergoing a series of chemotherapy treatments which will be followed by radiation and hormone therapy.  Kimberley is one of the fortunate breast cancer survivors as a result of her early detection of the disease.
Unfortunately for Kimberley & her family, she had already been battling with health issues that have left her unable to work for the last year.  The Grahams have exhausted their savings and funds available through conventional resources.  Due to the loss of her employment, which she held for the last eleven years, Kimberley also does not have health insurance.  The Grahams are facing very uncertain times as Kimberley continues to undergo treatments sought to provide the recurrence of this deadly disease.  You can make a big difference in Kimberley & her family's immediate future security.  Donate today.  Assist Kimberley with your generosity.
The Kimberley Graham Cancer Recovery Fund will be holding a series of annual fundraisers aimed at assisting first her family & then passing the torch to other needy families faced with similar situations.
Currently, Kimberley has enrolled in college to complete her court reporting studies which were put on hold while she raised her children.  She sets an exemplary standard for women who are facing extreme struggle and do not let the challenges stand in their way.
Make checks payable to or make donations directly to:
Kimberley Graham Cancer Recovery Fund/Bank of America
Or directly to the family at:
308 Orange Ave., 24
Coronado, CA  92118
(619) 435-4597
biggal21@yahoo.com

Email This Post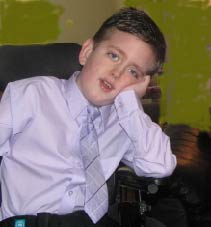 Hi! My name is Nicolas Avery Brown and I am a smart, precocious seven year old. I was born with a disability called Myotubular Myopathy, It means that I have low-toned muscles, I am wheelchair bound and I get sick really easy. I've been in the hospital over 30 times in the past seven years for respiratory issues. I have spent most holidays in the hospital, especially in the winter. I don't mind so much because the hospital has room service and the nurses are really nice. My mom calls the hospital our "home away from home" and we make the best of it whenever we are there.
I don't get to go to school anymore which makes me sad because I don't get to hang out with my friends and take French class and go to chess club, but I get sick and have to go in the hospital because I catch sickness from other kids. My mom is home schooling me right now and I am a straight A student. I love to play video games and board games and watch Dragon Ball Z. People ask me if I want to walk. I don't know how to answer that question because I don't know what it feels like to walk. I have a manual wheelchair that I use at home and a power wheelchair when I go out. I can go really fast in my power wheelchair and I like to race people. I hope to be able to play Power Soccer on a team if I stay well.
My mom is a single mom, which means that my dad doesn't live with us. She works hard to take care of me and to pay the bills. I have everything I need but sometimes I don't get to do or have some of the things I would like because my mom can't afford it. We meet a lot of other kids like me. It is hard to take care of a special needs child, especially when they are in the hospital, and work. My mom and I decided to start this Foundation so that we could help other kids like me and families like us.
A lot of stuff isn't covered by insurance and it would be nice to help pay for another kid's prescriptions so they can stay well and feel good. I wish that every kid in a wheelchair could ride horses and go to camp. I wish that all moms and dads could have a babysitter for their kids so they can do something fun. I wish that people have somewhere nice to stay while their kid is at the hospital. I wish that everyone has good food and someone to talk to and hug when they are sad. I hope that The Nicolas Avery Brown Foundation can do that and more.
THE NICOLAS AVERY BROWN FOUNDATION
1523 First Street, R111
Coronado, CA 92118
619-518-9565
https://www.thenicolasaverybrownfoundation.info/
Podcast: Play in new window

Email This Post

BioDiesel with Alan Graham & Sefton (Weezel) Graham
Podcast: Play in new window

Email This Post

Alan Graham isn't humming about this Hummer!
Podcast: Play in new window

Email This Post

Captain Bamber Wetbread of the
California Fashion Police is on patrol!
Podcast: Play in new window

Email This Post
Please help find Henry, a missing sick dog !! He cannot eat without his medication.
Podcast: Play in new window

Email This Post
Best Bank in Town!!
Podcast: Play in new window

Email This Post
I am a sixty-year old woman, born and bred in Liverpool, England. Looking back on my youth, the Sixties were most certainly an unforgettable and magical era. I recall sneaking off to my clandestine lunchtime sessions at the Cavern Club where the not-yet-famous Beatles would gig almost daily. My three big brothers, John, Alan, and Frankie, were in the thick of that magical time and I used to follow them around like a puppy dog.
John was the first to depart Liverpool and head for London where all the action was. He went on to become the road manager for a then famous group known as Johnny Kidd and the Pirates.
Alan followed soon after where he met his American girlfriend whom he later married. I travelled from Liverpool to Surrey in London where they were living to meet their beautiful new baby boy, "Dylan". Shortly after, they left England for a new life in America. I was heartbroken. My two big brothers had gone from my life. Only Frankie remained in Liverpool where he met and married his childhood sweet heart, Lana…
But I digress — never a real Doors fan, I read every book that was ever written about them. The reason being was that the American girl my brother Alan had married in 1967 just happened to be Jim Morrison's sister, Anna. After reading each and every book, I would call Alan and ask him, "Is this true or fiction?" His reply would always be the same. "Norma it is lies, all lies. Nobody outside the Morrison family ever knew the real Jim. One day when the time is right, I am going to write my own book and tell it like it really was, who the real Jim Morrison was". Like a mantra he would repeat, "One day when the time is right I will tell it like it really was."
Well, lo and behold, he did it! Alan's new book, "I REMEMBER", is an amazing read and an absolute must for the millions of Morrison fans all over the globe. It is extra special to me because over a forty-year span, Alan had already told me all those crazy stories especially as those concerning Jim. My brother, Alan Graham, was then and still is a lunatic of Olympian standards. He is also a true humanitarian and works tirelessly devoting his time and energy to numerous charities.
In my opinion, it is like he brought the Lizard King back to life for a while. He told it like it really was. Well done, our kid! Your family in the great city of Liverpool, England beams with pride.
Norma Veronica Malins