Email This Post
The Nicolas Avery Brown Foundation
Public Service Announcement
(video podcast)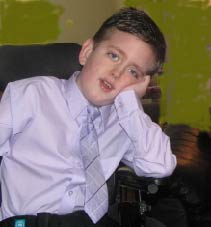 Hi! My name is Nicolas Avery Brown and I am a smart, precocious seven year old. I was born with a disability called Myotubular Myopathy, It means that I have low-toned muscles, I am wheelchair bound and I get sick really easy. I've been in the hospital over 30 times in the past seven years for respiratory issues. I have spent most holidays in the hospital, especially in the winter. I don't mind so much because the hospital has room service and the nurses are really nice. My mom calls the hospital our "home away from home" and we make the best of it whenever we are there.
I don't get to go to school anymore which makes me sad because I don't get to hang out with my friends and take French class and go to chess club, but I get sick and have to go in the hospital because I catch sickness from other kids. My mom is home schooling me right now and I am a straight A student. I love to play video games and board games and watch Dragon Ball Z. People ask me if I want to walk. I don't know how to answer that question because I don't know what it feels like to walk. I have a manual wheelchair that I use at home and a power wheelchair when I go out. I can go really fast in my power wheelchair and I like to race people. I hope to be able to play Power Soccer on a team if I stay well.
My mom is a single mom, which means that my dad doesn't live with us. She works hard to take care of me and to pay the bills. I have everything I need but sometimes I don't get to do or have some of the things I would like because my mom can't afford it. We meet a lot of other kids like me. It is hard to take care of a special needs child, especially when they are in the hospital, and work. My mom and I decided to start this Foundation so that we could help other kids like me and families like us.
A lot of stuff isn't covered by insurance and it would be nice to help pay for another kid's prescriptions so they can stay well and feel good. I wish that every kid in a wheelchair could ride horses and go to camp. I wish that all moms and dads could have a babysitter for their kids so they can do something fun. I wish that people have somewhere nice to stay while their kid is at the hospital. I wish that everyone has good food and someone to talk to and hug when they are sad. I hope that The Nicolas Avery Brown Foundation can do that and more.
THE NICOLAS AVERY BROWN FOUNDATION
1523 First Street, R111
Coronado, CA 92118
619-518-9565
https://www.thenicolasaverybrownfoundation.info/
Podcast: Play in new window