Email This Page
How to subscribe to a Podcast
What is a Podcast?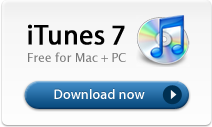 A Podcast is simply a free recorded audio or video file to which you can subscribe. Once you subscribe, it will be delivered directly to your computer whenever a new show is published. You have the option of listening/viewing on your computer, iPod or other portable media devices, including the iPhone.
You watch what you want, when you want. For FREE.
How Do I Subscribe to a Podcast?
We recommend Apple.com's iTunes for subscribing to Podcasts. It's easy and FREE. If you don't have it installed on your PC or Mac, just follow this link to get it. You don't have to register or open an account to access thousands of hours of entertainment and learning media.
Once you have installed iTunes, you can search and browse for Podcasts to either just watch or subscribe. Our site has convenient links to our subscription. Just click any Subscribe via iTunes button. You only have to do it once. It will download the latest show automatically and give you the option to hear/view previous episodes.