Email This Page
Morrison Book Page
I Remember
by Alan Graham
"As intimate a portrait of Jim Morrison's character and the forces which shaped his life and death as the reader is ever likely to encounter…"
This book is not just another rehash of the same old sensational tell-all dirt and gossip, but a collection of bitter and sweet memories concerning the life and times of:
Jim Morrison a.k.a. "The Lizard King".
These stories, yarns, and anecdotes are like a collection of dreams and memories; writing them has given me the greatest of joy and my wish is to share that experience with you, the reader.
The Jim Morrison you know, unlike most public figures, is largely based on accounts of the last five years of his life. More than forty books have been published about him, and each one reveals nothing more than the last. The reason for this is because no one in the Morrison clan has ever revealed the true details (nor will they ever) about Jim's life inside the family.
My personal account of these events provides rare glimpses and intimate insights into the other side of Jim Morrison and the people who loved him.
A. R. GrahamReserve Your Copy Now: $24.95
Plus USPS Domestic or International Shipping CA & other US tax rates apply as required per orderPlease allow 3 to 4 weeks for delivery post-release date (March 14, 2008)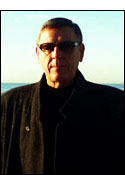 Podcast: Play in new window