Email This Post
David & Arlene find some great custom lamps at the Berks Jazz Fest. They are custom-made to order from musical instruments, etc. Shades are signed by jazz artists (silver on a black shade). Beautiful craftmanship. We ordered one of the Shure Elvis Mics.
iLumnatunes – Illumination with Imagination
Donna & Jake Ruth
www.ilumnatunes.com
Podcast: Play in new window

Email This Post
As an auteur, Alan Graham is an accomplished writer, producer and director. The scope of Alan's work ranges from the commercial to the experimental; he is equally at home developing media related to advertising, popular cultural, and the fine arts. His works include theatrical and musical productions and related documentary films, national public relations campaigns, avant-garde performance art, and most recently internet-based properties involving online media production and distribution.
Alan was married to Anne Morrison, sister of legendary rock singer Jim Morrison of The Doors, and is the leading proponent of Jim's artistic and intellectual legacy, focusing primarily on the artistic and conceptual aspects of Morrison's work as it relates to the fusion of popular culture and the fine arts, particularly in terms of the relationship between mass media, universal human issues, and collective psychology.
Alan's new book, I Remember is being released on March 26, 2008. Doors fans worldwide are eagerly anticipating this publication, which provides insights and stories about Jim and the Morrison family which have never before been revealed.Alan has also developed a new project titled Ghost Radio which is a mystical, terrifying, funny, bizarre look at the myriad and strange characters and events surrounding the town of Sundog, New Mexico and the Ghost Radio Network which broadcasts from… No One Here Knows.
For more information and to order a copy of I Remember, click here

Email This Post

Alan Graham is Frankie Setback,
or is Frankie Setback Alan Graham?
Now I'm really confused
and the Mystery continues at …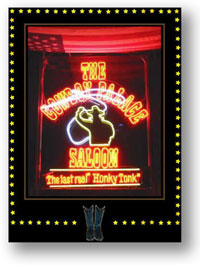 The Cowboy Palace Saloon
21635 Devonshire Street
Chatsworth, CA 91311
(818)341-0166
Their website is www.cowboypalace.com
The talent show is every Monday night beginning at 9:00 PM and is hosted by Chad.
Recorder Live: March 24, 2008
The Chad Watson Band
Chad was on Bass.
His website is www.chadwatson.us
Chad was Charlie Rich's bass player for years and has also toured and recorded with The Imperials (Elvis' gospell singers) Delaney Bramblett, Albert Lee, Ronnie Milsap, Freddie Fender and many others.
Vern Monett was on guitar and has played with Randy Miesner and toured with Freddie Fender until his passing. Vern played pedal steel guitar with Freddie.
Jim Salisbury was on drums, but Owen Goldman played drums during Evan's two songs. Owen tours with Ray Manzarek and Robby Krieger of The Doors as drum tech for Ty Dennis.Lee Harper on rythm guitar.
Mickey Wells was on pedal steel guitar.
Podcast: Play in new window
Podcast (podcast2): Play in new window

Email This Post
Gay Pride Parade
July 30, 2005



Alan and his brother-in-law Andy Morrison show up at the Gay Pride Parade in San Diego… and things go haywire from there!
Podcast: Play in new window


Email This Post
Music for Altered States with the Ghost Radio Theater Ensemble and associated desperados, friends, family, and dreamers.
Podcast: Play in new window

Email This Post
This is KMJR Radio… Desert Radio… Ghost Radio…"
Music, words and sound collage designed to expand your consciousness.  Take a trip with the Ghost Radio Theater Ensemble — the Haunted Junkyard Choir, Al Graham, the GRIPIT Investigation into the life and times of James Douglas Morrison, Dark Ryders, The Heathen Notion Destructive Testing Audio Lab, and KMJR Radio, The Spectral Radio Wavelength. 
Podcast: Play in new window

Email This Post
Alan Graham, Evan Marshall and Stacy Marlo boating off of Coronado on beautiful Coronodo Bay, San Diego. They discuss Alan's upcoming House of Detention (episode 3).
Video and audio only versions.

Podcast: Play in new window
Podcast (podcast2): Play in new window

Email This Post
The House of Detention celebrates Liverpool and family, and Al interviews David LeVine, rock photographer, who was located front row center at the infamous Doors Miami Concert and subsequently testified at Morrison's obscenity trial. Topics include rock, art, and David's current work at www.TreeO.com . Al gives a shout-out to Robbie Krieger, introduces the wonderful music of Stacy Marlo, (as heard on AFN Iraq) and chats with Mr. Mojo of Ghost Radio. Then he has a few choice words regarding Dr. Laura, reminisces about a road trip with Larry Flynt, has a few more choice words about No One Here Gets Out Alive and concludes the evening with the truth about Old Souls. A cool second track by Stacy Marlo in the mix, along with a song by Frankie Setback.
Podcast: Play in new window

Email This Post
The House of Detention Ghost Radio International Paranormal Investigation Team (GRIPIT) chases the bogus Cowboy Jim Morrison . Al Graham hosts author Gary Patterson (Walk On The Dark Side) who discusses post-Morrison Doors mysteries and the publication of his debut book The Walrus Was Paul. Topics include stories from I Remember, tunes by Frankie Setback, the Ghost Radio CDs available at www.darkryders.com , MusiArt by Jesse Shakespeare, homicidal lunacy and soap-on-a-rope, the infinite power of self-delusion, and an observation about Admiral Morrison.
Podcast: Play in new window

Email This Post
The House of Detention premiers with the introduction of the mysterious Ghost Radio. Alan discusses the virtues of keeping track of one's medical records with the Portable Medical Disk, goes on the trail of a phony Jim Morrison in Oregon and a phony son of Jim Morrison who plays music, discovering assorted lunatics and grifters along the way; topics include stories from Al's book I Remember, "Morrison conspiracy" nutcases, strong women, and Jim's version of "The Star Spangled Banner".
Podcast: Play in new window
Our Podcast Alley feed! {pca-53dff421f793a51349c561d17d7da7e1}