Email This Post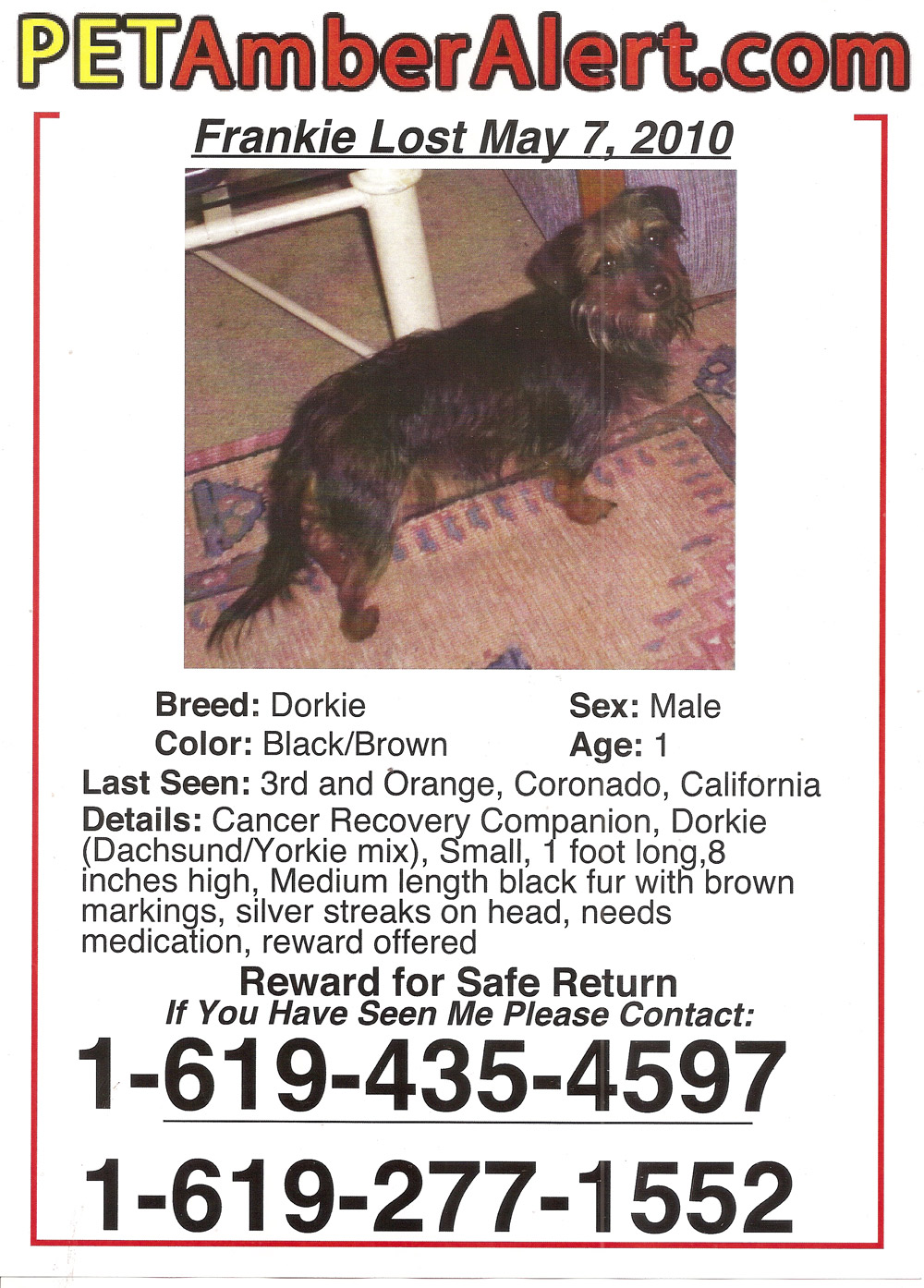 Click image to see larger
Kimberley Graham, your amber alert about Frankie has been processed within a 50 mile radius of the 92118 zipcode. We have attached a copy of the poster for your records and recommend that you print at least 20 copies to post and hand out around your local neighborhood. We also recommend to upload the poster to as many websites as possible, and email it to everyone you know because the more people that know about your missing pet the better. When you are reunited with your pet, make certain to inform all places you contacted and remove flyers posted. Otherwise, valuable time is wasted which could be used for animals who are still lost.
Click here to Download your Poster
Thank you,
Pet Amber Alert
"Helping Pets Find the Way Home"
http://www.PetAmberAlert.com

Email This Post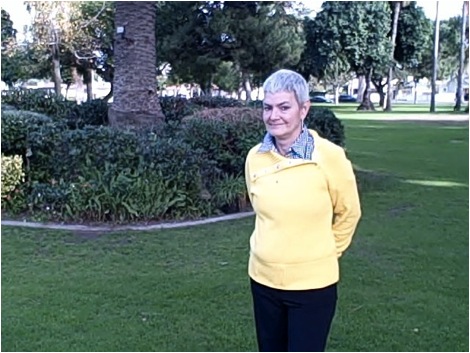 Kimberley Graham grew up on our lovely island of Coronado.  She is 53 years old, married for two decades, and home schooled her two children.  Kimberley was also selected as one of San Diego's 50 Best Moms the same year!
While educating her children, she worked as a waitress at local resorts, Loews Coronado Bay Resort and Coronado Island Marriott Resort/Le Meridien where she cultivated many long standing relationships with the local community as well as world travelers and celebrities.
In February of this year, she was lucky enough to self detect a lump on one of her breasts.  After undergoing two surgeries, she is currently undergoing a series of chemotherapy treatments which will be followed by radiation and hormone therapy.  Kimberley is one of the fortunate breast cancer survivors as a result of her early detection of the disease.
Unfortunately for Kimberley & her family, she had already been battling with health issues that have left her unable to work for the last year.  The Grahams have exhausted their savings and funds available through conventional resources.  Due to the loss of her employment, which she held for the last eleven years, Kimberley also does not have health insurance.  The Grahams are facing very uncertain times as Kimberley continues to undergo treatments sought to provide the recurrence of this deadly disease.  You can make a big difference in Kimberley & her family's immediate future security.  Donate today.  Assist Kimberley with your generosity.
The Kimberley Graham Cancer Recovery Fund will be holding a series of annual fundraisers aimed at assisting first her family & then passing the torch to other needy families faced with similar situations.
Currently, Kimberley has enrolled in college to complete her court reporting studies which were put on hold while she raised her children.  She sets an exemplary standard for women who are facing extreme struggle and do not let the challenges stand in their way.
Make checks payable to or make donations directly to:
Kimberley Graham Cancer Recovery Fund/Bank of America
Or directly to the family at:
308 Orange Ave., 24
Coronado, CA  92118
(619) 435-4597
biggal21@yahoo.com

Email This Post
Where does Alan Graham get those
GREAT T-SHIRTS ???
Podcast: Play in new window

Email This Post

Alan Pays the Toll !!!
Podcast: Play in new window

Email This Post

You won't believe your eyes!
Podcast: Play in new window

Email This Post
Eric plays his heart out and signs autographs.
Podcast: Play in new window

Email This Post
A New Communication Tool!!

Email This Post
"Over the last 26 months she's learned a lot about life. She has suffered through surgeries, chemotherapies and radiation, but she doesn't ignore the bright side: discovering who sticks with you when the dice relentlessly come up snake eyes." Excerpt from an article in the Durando Herald.
Podcast: Play in new window
Click here to read rest of the Durango Herald article by John Peel
Alan Graham's response to the above article:
Dear John,

Your article was deeply moving and will be inspiring to many women all over the world.

My name is Al Graham and Teresa is staying with us in Coronado, California while she recooperates.
My book I Remember was just published and soon I will begin a promotional book tour around the country.

I will be using this venue to hold fundraisers for Teresa and The American Cancer Society and will soon be placing a donation button on our website at: www.ghostradionetwork.com.

I am sending you a copy of my book with Teresa when she returns to Durango.

Once again, thank you kindly for a most beautifully written and compassionate article.

I remain at your service,

A.R. Graham
To help Teresa Ogle:
A benefit account in the name of Teresa Ogle has been set up at Alpine Bank. Checks should be made to Teresa Ogle and sent to:
Alpine Bank
1099 Main Ave.
Durango, CO 81301
For more information, call Alpine Bank at 375-7689.

Email This Post
TOM SILVER
Clinical Hypnotherapist • Author • Lecturer
Hi, I'm Tom Silver. I believe that the science of hypnosis is now becoming one of the leading forces in changing people's lives. My mission is to bring hypnosis understanding and knowledge to everybody, so that millions of people might benefit mentally and physically by the utilization of this wonderful and powerful science of the mind.I am a Certified Hypnotherapist, Advanced Trainer in Hypnotherapy & Hypnosis, author & developer of state of the art hypnosis tools & products, and with over 20 years of experience in the field of hypnosis I know what I'm talking about.

I have appeared on national television shows throughout the United States and in Taiwan, including my own one hour television CBS special called Hypnotized, The Montel Williams Show, The Ricki Lake Show, The Sally Jesse Rafael Show, The Man Show, Beyond with James Van Praagh, The Other Half on NBC with Dick Clark, and Fox Television Special Powers of The Paranormal to name a few.


Email This Post
Check out Tom's Hypnotic Van.

Amazing!!!
Podcast: Play in new window